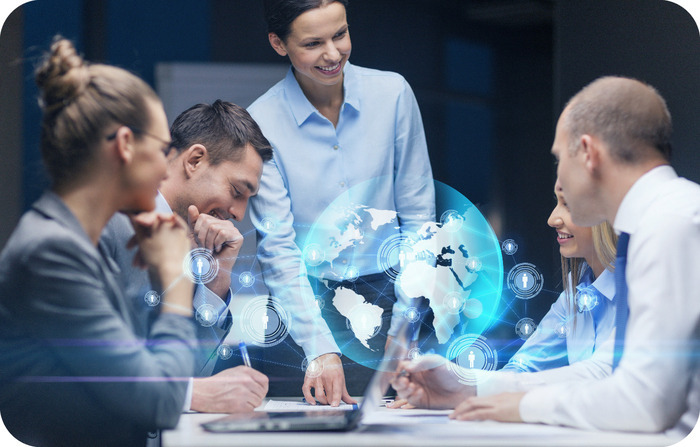 Our Global certification consultancy is suitable for organization of any size, nature and location. To save huge on-site consulting fees along with travel expenses, one must go for our online QMS, EMS, OHSAS, HSE, Food safety, IT security and services management systems certification consultancy services. Our online service is quite similar to traditional on-site consulting, except most communication between our experienced consultants and clients.
Below is the list of global standards, where Global Manager Group is giving consultancy. We offer a full range of consulting services geared towards helping small, medium and large size businesses and organizations achieve competitiveness, certifications and compliance to international standards and regulations. We fully assist companies and organizations that want or need to achieve compliance and quick certification, integrated management system; IMS, HSE and CE mark for product certification. We have a strong consulting team and globally helped to leading companies for explanations on the various certification and regulations. The services include training, documentation, implementation follow up etc for auditing to establish and develop the system with latest system certifications with the help of online or offline consultancy mode.
List of Certification Consutlancy Offered by us:
ISO 9001:2015

Quality management system certification

ISO 14001:2015

Environment management system certification

ISO 22000

Food safety management system certification

HACCP certification

Safe food manufacturing system based on hazard, analysis and critical control points.

BRC food certification

Global standard  based on British retail consortium for food

CE MARK certification
U stamp, R stamp

Product certification as per European standards

ISO 13485:2016

Medical devices quality management systems requirements

OHSAS 18001

Occupation, health & safety OHSAS 18001 certification

ISO 27001:2013

Information security management system certification

Laboratory Accreditation

For testing & calibration laboratory accreditation

ISO 50001

Energy management system certification

BRC IoP certification

Global standard based on British retail consortium for packaging industry

NABH certification

National accreditation board for hospitals accreditation

RC 14001 certification

Responsible Care (RC) is a global initiative on health, safety and environmental practices

FAMI-QS certification

Feed safety management system certification

FSSC 22000 certification

Food safety and standard certification

ISO 20000

IT service management system certification

CMMI Certification

Software engineering institute capability maturity model integration

Sedex / SA 8000

Supplier ethical data exchange and Social Accountability certification
Steps for Global Certification - by Global Manager Group
Conduct awareness programmes for all the employees (Top + Middle + Bottom Level).

Carry out micro level survey and gap analysis.

Form a Task Force for Documentation.

Prepare documents as per system requirements, review and revise it for benefit of organisation.

Implementation & Train All Personnel in the Use of Procedures & Formats.

Train Internal Auditors.

Assess the System Through First Internal Audit.

Take Corrective Actions for Non-Conformities.

Apply for Certification to internationally recognized certifying body.

Conduct management review meeting

Assess the System through First Internal Audit.

Avail Pre-Certification Audit of Certifying Body.

Take Actions on Suggestions Given by Them.

Final audit by Certifying Body.
E-Certification Consulting Program
On-line certification consulting program may be suitable for those companies that need minimum disruption of their operation and would like to save consultant's travel expenses. Our online service is very similar to traditional on-site consulting, except most communication between our experienced consultants and clients is by phone and e-mail. For companies that have the internal resources to implement their own quality management system but want to speed up the system implementation and enhance knowledge of team, we offer the following services:
Customized Templates

Desktop Auditing

Turnkey Consulting